Football catalog
Get ready to dominate the field with Reyrr's 2023 American football catalog! Our top-of-the-line equipment from trusted brands will take your game to the next level.
FOR ATHLETES BY ATHLETES
As a company, we are always striving to create top-quality products that meet the needs of our customers. When it came to designing a uniform system for the European market, we knew we wanted to create something that was both modern and functional. We wanted to create a garment that not only looked good, but was also able to withstand the rigors of high-level athletic competition.
To achieve this, we consulted with several top-level athletes from European teams and gathered their ideas and insights. We spent months testing and refining our designs, making sure that they would be able to handle the demands of even the most dedicated and hardworking athletes.
The result of our efforts is the Mentality Pro and Flex Pro uniforms. These garments are designed with a modern, tight fit and are made to withstand the demands of high-level athletic competition. They are built to perform in every game situation, no matter how intense the action gets.
We are confident that these uniforms will meet the needs of the European market and provide an exceptional level of comfort, performance, and style to the athletes who wear them. Whether you're a seasoned pro or just starting out, we believe these uniforms will help you perform at your best.
State-of-the-art uniform system
FLEX PRO
The Flex Pro is a premium class uniform that is perfect for teams looking for a high-quality, professional look. Made from a blend of nylon and spandex, this unique material provides a comfortable and durable feel that will hold up game after game. In fact, it is made from the same material as many NFL and NCAA teams use, ensuring that it meets the highest standards of performance and durability.
One of the key features of the Flex Pro is its capped sleeves, modern tapered fit, and minimalistic design. These features give the uniform a sleek and professional appearance that is sure to impress. The Flex Pro is also offered exclusively as a dyed fabric uniform, which means it is available in a range of full, vibrant fabric colors. While this may mean it has slightly fewer design possibilities compared to other uniforms, the full fabric colors add an extra level of visual interest and make the Flex Pro stand out on the field.
In addition to its high-quality materials and stylish design, the Flex Pro is also unique in the European market for its blend of nylon and spandex. Trust Reyrr to provide you with the best in sports apparel and order your Flex Pro uniform today.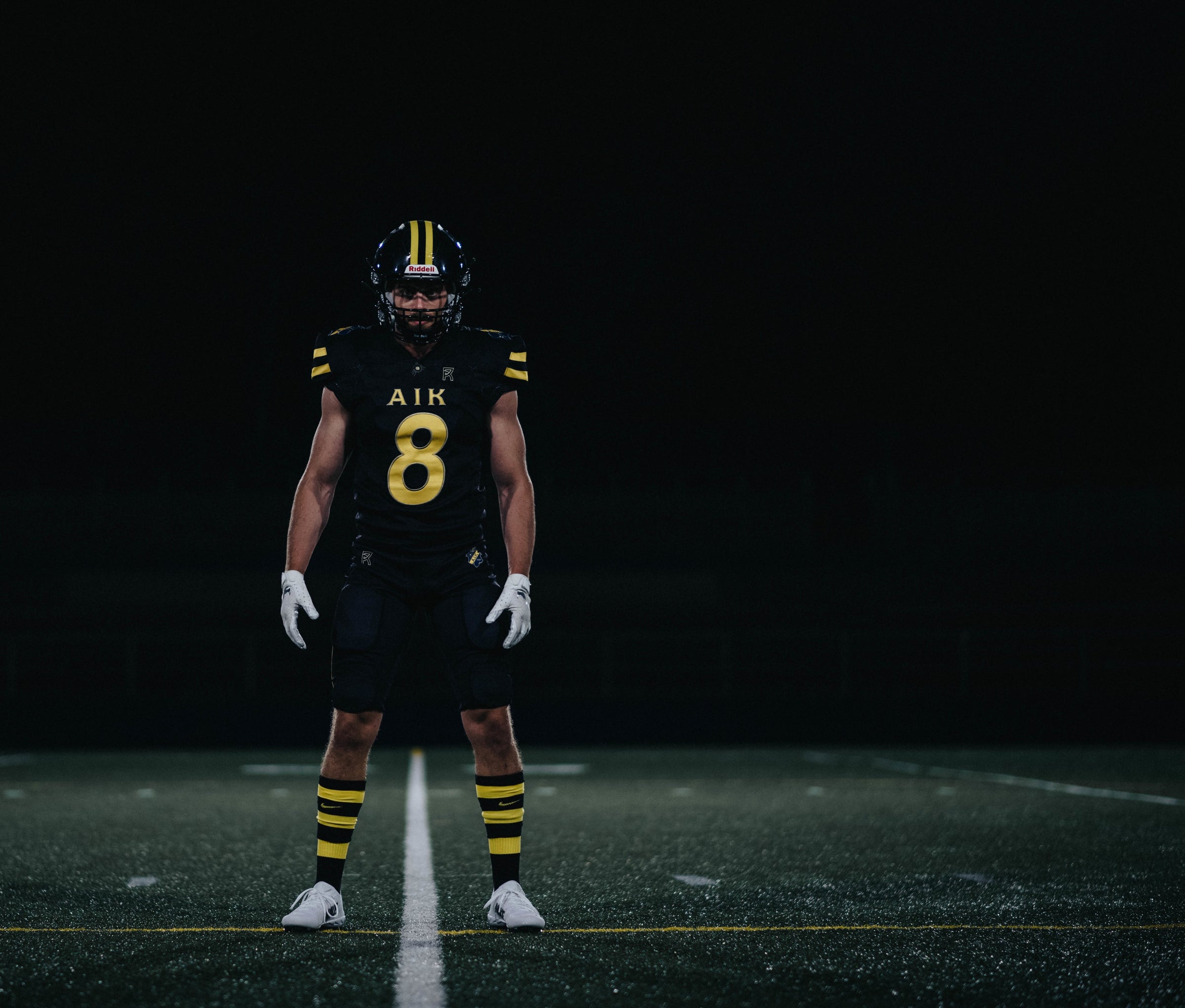 When innovation meets the modern football swag
MENTALITY PRO
The Mentality Pro is our most popular uniform. It's constructed from a combination of heavyweight polyester and spandex blended fabric and a heavyweight mesh.
It's a 14-panel design featuring capped sleeves and a tapered fit which gives it an aggressive look.
The Mentality Pro is subimated to the color of your liking, and offers both sublimation and embroidered details which gives it endless design possibilities and 100% customizable!
FLAG FOOTBALL and 7 V 7
SWIFT (tight and loose fit)
The Swift flag football uniform from Reyrr Athletics is a top-quality option that is perfect for both 7v7 and flag football teams. Its customizable design and durable materials make it an ideal choice for players looking to make a statement on the field.
Using sublimation as our primary printing technique, we are able to offer limitless design possibilities for the Swift. This means that you can create a unique and stylish look that reflects your team's personality and style. The stretchy polyester and spandex blend also makes the Swift very durable, able to withstand the demands of both 7v7 and flag football.
Trust Reyrr to provide you with the best in sports apparel and order your Swift flag football uniform today. Whether you're looking for a professional look or just want to express your team's style and personality, the Swift has you covered.
our proud uniforms system partners #Reyrrfamily